We hope to see you at our events. Each month we host a New Member Orientation on the second Sunday of each month at 11:00 am. This is a support-style group for gay dads and prospective dads to share their experiences forming families.
Always a mix of current and future parents, this is a great way to get answers to your questions about fostering, adoption, surrogacy and co-parenting. Much of the conversation is about logistics--from agencies, attorneys, and doctors to play groups, pre-schools, and pediatricians. The payoff is when repeat visitors to this group come with their new arrivals--the children they have worked so hard to get.
Quarterly (see below), we have a pot luck meal at Noon. Many longer-term members will come with their kids, so bring a dish to serve eight (no desserts, please). After the meal, we head out to the park to play with the kids. This pot luck is a perfect time for prospective dads to meet others who have traveled their path.
We often pair the pot luck meals with panel discussions on topics of interest, such as:
Surrogacy, Fostering & Adoption
Legal Issues for Gay Dads
Finances: How to Plan or the Future
Girl Stuff 101: Raising our daughters
In June, we march in the Christopher Street West (Pride) parade, followed the next week by our annual father's Day Brunch at The Abbey in West Hollywood. We hope you can join us throughout the year!
Sunday, June 09, 2019 at 10:30 AM
10:30 am - Meet at Crescent Heights & Santa Monica Blvd.
11:00 am - Parade steps-off
12:45 pm - Parade ends at West Hollywood Park
We meet at 10:30am near the intersection of Crescent Heights and Santa Monica Blvd. to assemble for our marching contingent in the parade. The march kicks off at 11:00 am and we'll thread into the flow in the first 45 minutes. I estimate we should arrive near West Hollywood Park (The Abbey) by about 12:45 pm. It's a  great walk and should be a lot of fun!
Please do RSVP (green button to the right), as we will be distributing t-shirts to dads and kids--we need a precise inventory. Once you RSVP, you will receive an email asking for sizes of t-shirts.
If you wish to volunteer to organize the group, decorate with signs, streamers, etc., let us know, too. We look forward to having you there!
If you have not seen it before, we get a LOT of love from the crowd. When our kids roll through on their bikes and scooters, waving and smiling, the crowds go wild, tears, cheers, "Hip, hip hoorays", it is really VERY affirming. Don't miss out... this is one of the most invigorating experiences of our year!
This year, a large percentage of our active members are prospective dads -- which is terrific! This march is as much for the prospective dads as those of us with little ones in tow. I hope to see everyone out there for this fun event!
There will be no support meeting or pot luck meal, since the parade conflicts with our regular second Sunday of the month time. Do plan to join us the following Sunday at The Abbey for our Annual Father's Day Brunch. RSVP for the brunch HERE.
---
Sunday, June 16, 2019 at 11:00 AM
11:00 am - 1:00 pm  Brunch at The Abbey
Join us for our annual Father's Day Brunch at The Abbey in West Hollywood. Visit the all-you-can-eat buffet or order off of the menu. We will also have arts & crafts for the little ones! After brunch, bring the kids next door to play in West Hollywood Park!
This is a celebratory event welcoming gay dads and their kids and prospective dads. Once again, we partner with RaiseAChildUS, a resource for prospective foster/adopt parents.
Please RSVP... we are working closely with The Abbey so we can plan for enough food and make this event just right for our families. Check out the menus below. We look forward to having you there!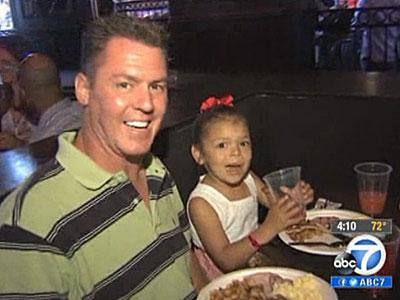 Adult Buffet ($16)
Scrambled Eggs * Applewood Smoked Bacon * Silver Dollar Pancakes * Abbey Potato Hash * Cucumber Tomato Salad * Mixed Green Salad, Seasonal Garnish * Seasonal Fruit Display * House Made Assorted Desserts
Child Buffet ($7)
Scrambled Eggs * Applewood Smoked Bacon * Silver Dollar Pancakes * Mac & Cheese * Chicken Tenders * Seasonal Fruit Salad
Assorted Yogurts * House Made Assorted Desserts
P.S.--We'll be doing dome tie-dye T-shirt decorating, so be ready for some fun!
---